Release the Beast
, our game concept for the pitch project and maybe to be carried through into the third year is now being complimented on a daily basis, it's really nice to have an idea that everyone believes can work. And I'm really proud so far of the team I've put together. The above drawings were done by
Simon Acty
, who I'm particularly proud of, he put a lot of time into getting these down and making them as amusing as the bullet points I had provided for the characters. I think they work fantastically and he's currently cleaning them up for the pitch. Myself and
Matt Luxton
did the composition above in Photoshop using Simon's art. It's been really nice being a kind of idea's generator, an organiser, quality control, and mediator between all parties involved. And I really feel like these guys are treating me as a team leader. And we're all working together fantastically. We've even had a request that if we take this into the third year.
Roy Nottage
would like to work on Animating the characters. So we're attracting a bit of attention with the idea.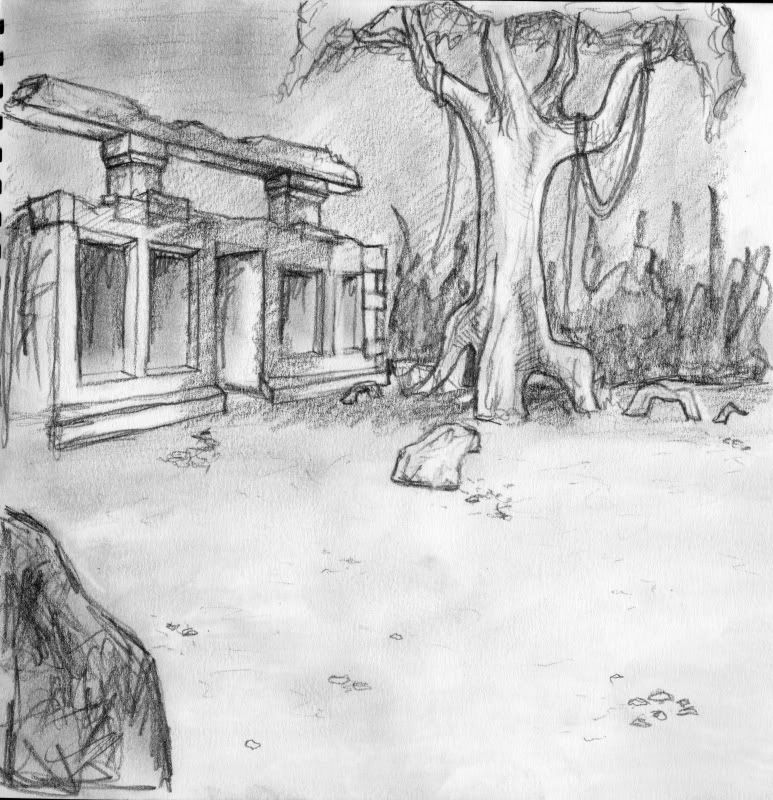 This small piece of Artwork is a roughed up concept for a world called "Bananaland" as coined by
Matt Butler
, (All the names are subject to change) The piece above is by
Emma Taylor
, and the Map below is for the world in question done by Matt B. Matt B. has proven to be very enthusiastic throughout this project, throwing ideas in and around as he can and working hard to create environments based on his knowledge of video games and shoot'em ups. Emma has also taken the time to do some Character descriptions and naming which again will undergo some looking over and changes, but are again fantastic. Emma is a brilliant fantasy writer and her character descriptions represent that, We just tweak the comedy slightly.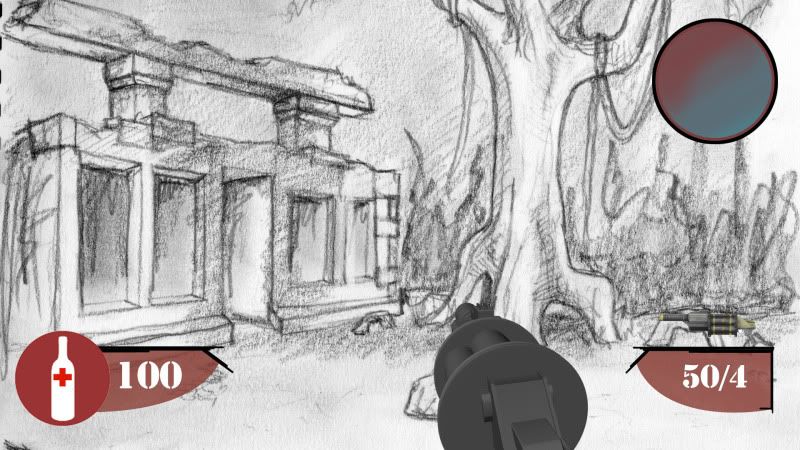 This is a Mock up of the HUD (Heads up Display) Designed by myself and Simon, The Gun Model was done as a test by Matt just so we'd have something to throw down for the pitch. We're working quickly and efficiently and this is showing through the quality of the work we have, I feel myself getting better and better as a leader and know how I would want this to run were it used next year as a third year project. I'm at a half way point on belief in this project now, what with the compliments we've had. From my initial change of plan, to what me and my group have come up with. I'm really beginning to be quiet proud of what we have even to this point.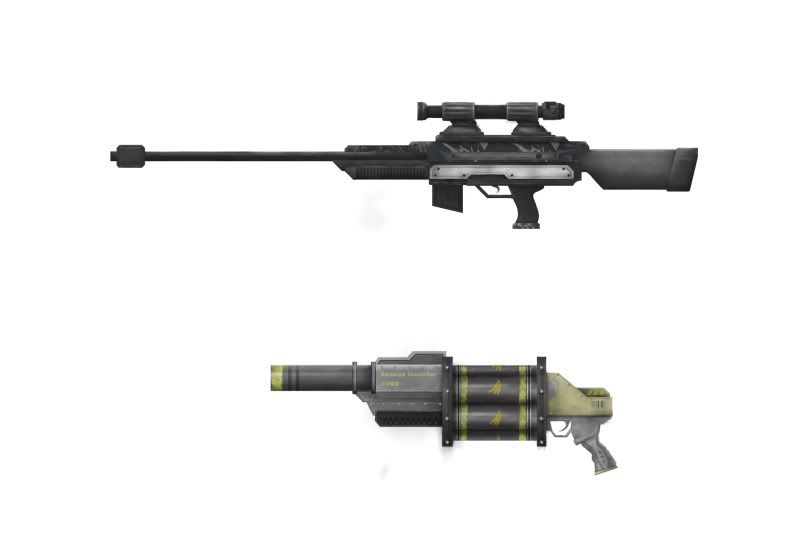 These are a few Gun Designs done by Matt L. as concepts. I believe they still require a bit of work, but they are absolutely fantastic. Matt is a wicked guy to work with, he puts so much time and effort into what he does and always comes back with things of fantastic quality.
All in all we're working away at making this the best fun we can make it, and it may be an option to make maybe a working level, or a concept trailer for the game next year for our FMP.
Tx